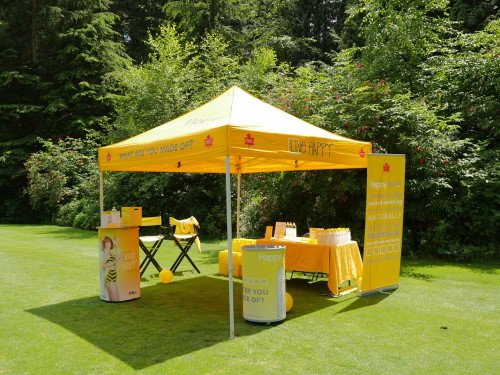 A crowd of people who can become your potential customers presents a huge opportunity in marketing your brand. Trade shows are places that provide you with this opportunity. And landing a spot at these trade shows is a shot you do not want to miss when it comes to attracting new customers.
But you may find several other competitors representing themselves at these events. Why do you think people would visit your trade show tent over theirs? The answer is simple. It means your trade show pop up canopy stands out from the crowd!
This leads to another question: how exactly do you make your tent stand out from all the rest? Well, there are several ways in which you can do this, all discussed below:
Make your presence felt
One way in which people will find your trade show canopy or tent will is through pre-promotion. You'll most likely know months beforehand that you are going to attend the trade show. Promote it on your website and social media accounts and inform your existing as well as potential customer base that you are going to be there. At the event, flags, banners, and entry banners are another way to differentiate yourself come showtime.
A tent that catches the eye
This is all about appearance, as what catches the eye will lead to foot traffic to your even space. The usual colors like red, blue, black, green, gray, yellow, orange are going to be there at the event. Why should someone come to you? Get a custom tent or canopy in a different color that is unique to your brand or company. The structure of the tent should be such that it differentiates it from other tents but good for you to drive traffic smoothly and move your visitors around without any problems. Your tent should be different enough to compel event-goers to visit you.
A tent that eases conversation
There is a common problem that plagues most trade show booths: a table that creates a distance between the staff and the visitors. It also causes traffic to gather outside your booth which creates a logistical mess. Get rid of this old table and get a custom-made trade show tent which lets you invite people in and examine your products and services. You can place shelves or have separate tables inside the trade show canopy which eases conversation with the visitors and helps to smoothly drive the traffic both inside and outside the tent.
A tent that best defines business
Visitors can come and examine your products and services, but how do you make it so that your trade show tent also gives away from a distance what your company has to offer? Your company logo is one thing, but apart from that this, you need something that portrays your company's business in a unique way. This is called branding your trade show canopy. Here, you will have to think about the color of the tent, the message on the tent, tent parts, special props or tent accessories which make you the talk of the trade show and drives people to your tent automatically. Get a customized trade show tent that serves all these purposes without overdoing anything.
A tent that offers what people like
Taking pics and selfies is the new trend! This is very popular with the young audiences as well as becoming very popular among adults. If you have an idea about the trade show, you must know the kind of audience who will be attending the show. If the attendees consist of a major population of young adults, offer something which draws them to your tent. And a very common but popular prop as a photo booth. You will need some out-of-the-box ideas to make it a unique one. Some amazing backdrops or a popular character can work magic for driving traffic to your booth and align with your brand.
A tent that offers something which others don't
Almost all the booths in a corporate event offer standard merchandise of a pen or a mug with the company logo. But if everyone is offering this, what offering can make people visit you? These days when people are so addicted to using their phones, power banks are a great option to offer as merchandise. Headphones are another popular option. People are turning more towards an eco-friendly environment. Offering eco-friendly bags can be a good option, too. If you are someone in the auto industry, a little plant as a giveaway can mark your concern towards nature and that you understand your responsibility. In short, you need to offer something which makes people ask where others got to from so that they end up visiting your tent.
A tent that engages people
It is a common sight at trade show tents that staff members talk between themselves and visitors pass by without giving a second thought to the tent as there is no one who will engage them. Here, your staff needs to be engaged in the show and keep the visitors engaged as well. When it comes to making people engaged, you can put some games in your tent which revolve around your business or brand. One more thing which is observed as a popular trend is a charging station. People spend quite some time on their phones and with a charging station available; it helps them as well as your business as people actually spend time at your booth, learning about your business while charging their phones.
In summary
Not only the look of your tent, but what's inside also matters to visitors. As per the space you have at the trade show, you need to get a custom-made tent built for you which looks different from other tents and compel people to visit you. Once you have visitors, you will need experienced and engaged staff as well as props or games to engage customers. These trade shows offer a nice platform to meet a huge number of potential customers who will visit you only if they find your tent attractive. So, make your tent stand out from others by purchasing some amazing, high quality tents from Outlet Tags today!