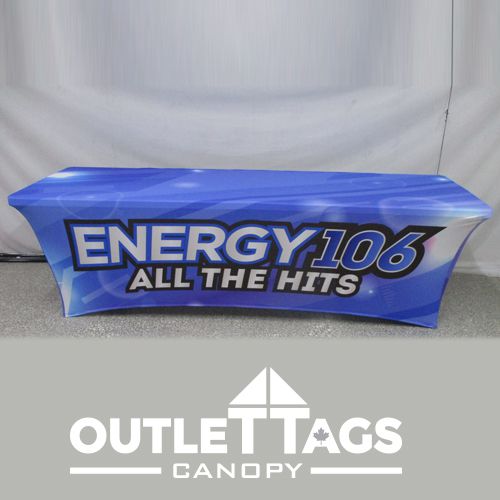 There is a decent chance that the word "tablecloth" is thrown around when someone is trying to describe a professional table cover. Even though a tablecloth does cover a table, it is far from the purpose and quality of a professional cover, like the ones offered here at Outlet Tags. Tablecloths are designed for both decorative and practical use in order to protect a table from damage. Most of them are disposed of after a single use as they are made using either a thin cloth material or a lightweight paper. The cloth ones can, of course, be washed after usage and stored until the next event.
A professional table cover, on the other hand, is designed to be used as a marketing or advertising medium. High-quality professional covers can last for years especially if they're reusable and come in vibrant colors and images. Crisp, clean, and eye-catching custom table covers are exactly what you need for professional usage and settings.
Whether you're a well-renowned company that regularly exhibits at conventions or trade shows, or you are looking to make a strong first impression for an upcoming community event or school function, custom table covers are a winning strategy that guarantees a memorable, professional display. Even though custom table covers might seem like a simple purchase that requires little research, there are many different variables that come into play. You must know the best practices if you are to make a great first impression and meet a wide variety of customer needs.
Here are some of the best practices that you must keep in mind when you're designing your custom table covers.
1.Clarify what kind of custom table cover you need
Custom table covers come in different styles and sizes. Before you begin browsing, answer a few questions about how you're planning on using the custom table covers. Will it be draped on standard-sized tables or any other types? Which areas will give your brand logo the most exposure? Should you focus more on the front, top, or sides? Does the table cover require extra protection from spills?
Keep in mind how the custom table covers will be used as it'll be crucial in deciding which type of table cover will serve your needs.
2.Choose the right table cover size that'll give you most options
Selecting the right table cover size is essential because the presentation is important. You wouldn't want half of your table cover falling off the table because it was oversized, would you? If you're unsure about which the size of the tables that'll be available at the event, it is recommended that you take the 6-foot table covers as the default option. It'll work well for a 6-feet or even an 8-foot table. On 6-foot tables, it'll hang to the floor on all four sides while on 8-foot tables, it'll reach to the floor, with a 12-inch shortage on each side. Click here if you already know your required sizing and are looking for the perfect fitted table cover.
3.Create stunning table cover designs to impress onlookers
Always design your custom table covers with branding in mind. The onlookers must be able to tell who you are from a distance just by looking at the design and colors. If you use specific shapes and colors for your brand identity, it'll help you in marketing.
Table cover design tips:
•Choose an exciting background color that has enough contrast to allow the logo to "pop".
•Convert the font into outlines, as it'll turn your text into an appealing graphic image.
•Be sure that the letters in the logo are big enough for people to read from at least 10 feet away. It is recommended that the letters in your name/logo should be 2-3 inches tall or a 6-foot table cover.
•Add a tagline, if you have one. It is a great way to increase branding.
•Make use of helpful artwork templates that are available online. Those templates will provide the seams, dimensions, imprint area, and other important information to guide you.
•Never use any copyrighted artwork or material for your custom table cover designs if you don't have the needed permission.
•Keep the custom table cover design simple and avoid adding too many details. Most people only look at the covers for a few seconds. If the design is too detailed, it won't stick in their memory.
Note that there are specific situation where plain table covers would suffice – but these are few and far between.
4.Keep the custom table covers looking great
Taking proper care of your custom table covers will ensure that you get long-lasting value for the investment you're making. Get the table covers machine washed in both cold water and in gentle cycle separately. Small stains can easily be removed by blotting the custom table covers with soap and water. Place them in the dryer or air-dry them for preserving their colors. Never dry clean your custom table covers.
Choosing custom table covers made from durable polyester fabric would be helpful as polyester is wrinkle-resistant. Also, when storing the custom table covers, roll them instead of folding them as it'll prevent any wrinkles. If any mild wrinkling occurs, simply gentle iron the covers on low heat.
5.Complete your custom table covers with merchandising techniques
The spotlight will not be on you if you don't have enough lighting. LED lights are great if you want to accent graphics without creating glare. You can choose soft halogen lights as they are best for illuminating people. Prefer cooler display lights to feature products.
Intriguing and colourful signage will lure people to your table. Use banners and retractable banner stand to provide information and to entertain. The latest trend is to ask interesting trivia questions which relate to your products/services and provide customized giveaways to the ones who answer correctly.
Avoid overwhelming visitors with flyers as there is little chance of them reading it. Keep your table neat and well-organized using baskets or containers that can hold smaller items. Place giveaways to increase your opportunity for face-to-face discussions. It would be wise to place a customized swag in two different areas for avoiding traffic congestion. People love games. Try adding a wheel to spin or any hands-on activity to make sure the onlookers stay at your table longer. If you're looking for more tips on branding your business to make it stand out, visit Outlet Tags today!