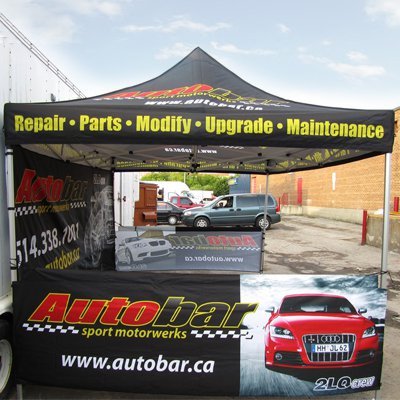 Promoting your business is a process that does not require a single, particular place. All you need is a space, any space, and you can promote your business there. Be it a fair, an expo, a trade show or anywhere else. This is the reason why promotional tents have turned out to be a big hit in outdoor business promotion. These tents are versatile, practical and most importantly cost-effective.
Once you have decided the place, expo, event or fair where you want to place your tent, you can get a promotional tent designed for you according to the event and space where you will place it. But, it does not end here.
How your promo tents and pop up canopies look is what matters most, as it will decide whether your marketing strategy will be a success or not. The correct branding of your logo is an essential need.
At Outlet Tags, we have listed 6 ways to brand your promotional tent that will make your brand look like an eye-catcher and invite the audience to your booth on its own.
Make use of the space available
A tent can have a large surface area for promotional purposes but it does not mean that you need to cover it all. Of course, you need to make most of the space you have on the tent by placing all the relevant details of your business but there is no need to overdo it. Your tent should display your brand from every angle. It should not look empty whether inside or from outside. Place your logo, messaging or other details, but do not let it look boring or lack content. Your tent is being used for promotional purposes so make sure that it serves this purpose and displays your brand. Make use of all the space available.
The Company Logo
A company logo is the identity of any company. It is not just a mark but a representation of your company's core mission and values. Not only for meaningful for large companies but for small companies too, the logo plays a very important role in building their brand. The brand or company logo is a significant branding tool which your company needs to make good use while promoting your business. So, be sure to place your company logo intelligently on your tent. Place your logo on the top of the canopy or the outer walls where it is clearly visible to everyone.
The Company Statement
Every company has a mission statement which dictates its purpose, what business they are in, and the products they offer. A marketing-oriented statement that clearly defines what the brand offers to the public is also important on the promo tent. This statement gives a general idea of the company to those who have no idea about your product or brand. If your company is on the smaller side, and you want to have clear messaging with what your brand and company is all about, you need to have your company statement or message on the tent.
It should be short and sweet which fulfills your purpose, not too lengthy to the point where you will not be able to hold the interest of a passerby. It should be quirky, catchy, and crisp. It needs to be precise and clear.
Contact Details
These are call-to-action details which are a must when you are promoting your brand. But these details should not take too much space on your tent. A contact number and website are sufficient. The customers who find you useful will be able to find you after the event. But in order for the public to find you useful, you need to make a strong impression through your tent and your company info on the tent.
Social Media Platforms
The use of social media has increased to the point where if people want to know more information about a particular brand, they go directly to the company's social media accounts. The reliability and use of social media platforms like Facebook, Instagram, Twitter, LinkedIn, etc. has increased among the general population. So, to make things easier for the public, including your social media handles on your promo tent is a great move. You need to display it intelligently on the tent so as not to fill the space on it unnecessarily that makes your tent look messy.
The Color of Your Tent
Most people would say that the color of the tent doesn't matter, but this is clearly not true. Studies show that colors play an important role in driving people's decisions. They are a part of life, and represent different moods, emotions, feelings, and more. If you are a big company and a color can be easily associated to your brand or in your industry, it is advisable to use that color for your tent.
If you're a smaller company, you need to think hard about which colors you want to represent your brand the most – and then use those on your promo tent.
Get rid of the minimalist look
If you like a simple look, you can do so for your promotional tent. But if you are going minimalist, you have to do it right. Going minimalist can be risky business. You have to make a big, creative and impressive presentation in order to make your presence felt and make a lasting impression.
Placing a promotional tent at any event is a great marketing strategy, but every strategy needs to be played right in order for it to be successful. When you are getting a custom-made promo tent, it is important to brand it properly. A custom-made tent is an investment in a marketing strategy and thus you need to brand it in appropriate ways in order to generate the best results. These results, in this case, are to attract as much attention as possible to your company and brand, to make a lasting impression on passersby's and event-goers. Visit Outlet Tags today to find the perfect promotional tent for your business.