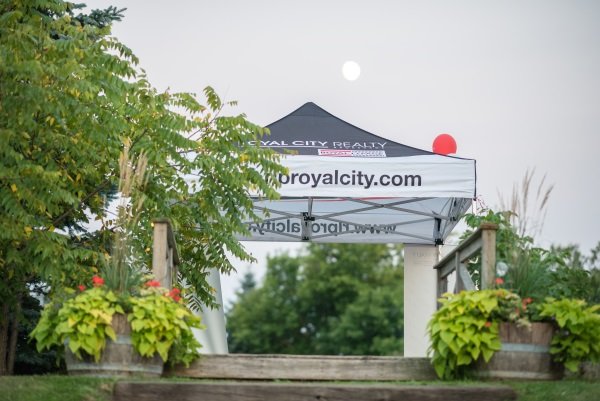 Summer sets in, every June. It doesn't take long before the heat gets turned high and by July, Ontario's cooking. Unfortunately, the heat can take a toll on your custom made tent. Toronto, Ottawa, Kingston, Hamilton, the Niagara Region, Barrie, or wherever, the heat presents trouble not only for a custom made tent but potentially, for the people around you.
As an owner of a logo printed canopy at an industry event or outdoors trade show, you want to be ready for whatever comes. By creating the right tent environment for you, your staff, and prospective customers, you can actually use the heat to your advantage. So here's a few tips and strategies on how to best protect your tent from the heat and how to maximize the opportunities in front of you this summer in Ontario.
Be welcoming to the sun-weary.
First things first, when the sun's out and the heat's really coming down, a lot of people are going to be looking for a place to grab some shade. Your custom made tent can be a great space allowing people to congregate under the cool shade and get some relief away from the heat. Events where you have people coming to you and where it's obvious they just want to get out from the sun, don't push the sales on them too hard. That said, a casual sales approach can be an excellent approach to seeing if someone's interested in hearing more.
Tent, water, and seating.
Preparing a logo event canopy for a hot summer's day, you want to ensure you have some hydration and seating available for you or your employees. Think of the worst case scenario – someone gets heat illness. You want to have what you need to care for this person until medical care arrives. Have a place for you or employees to sit comfortably out of the sun, keep water and/or other drinks readily available to keep yourself hydrated throughout the day, and give yourself some seating and tables to sit at and relax when you need to.
Ensure you choose the right canopy material.
If you want your logo pop up tent to continue looking and functioning well underneath the sun, material counts for a lot. You want something that's going to be weather-resistant and UV-resistant, or material that can at least tolerate heavy sun exposure. Cheaper tent fabrics could easily stain or discolor, reducing their lifespan in a big way. There are some synthetic materials which work well, vinyl fabrics are generally pretty good for waterproofing, and there are others.
UV protection.
Commercial event canopies and logo promo pop up tents likely already come with some UV-resistant coatings. To maintain a significant level of sun protection, you may wish to apply manufacturer-recommended fabric protection once a year. Do ensure any time you spray your event canvas that you aren't voiding the warranty or damaging the fabric. For this reason, it's always recommended to go with what's manufacturer-suggested. When you pull out your logo branded canopy for the first time this season, give it a good clean and then a spray with UV resistant product.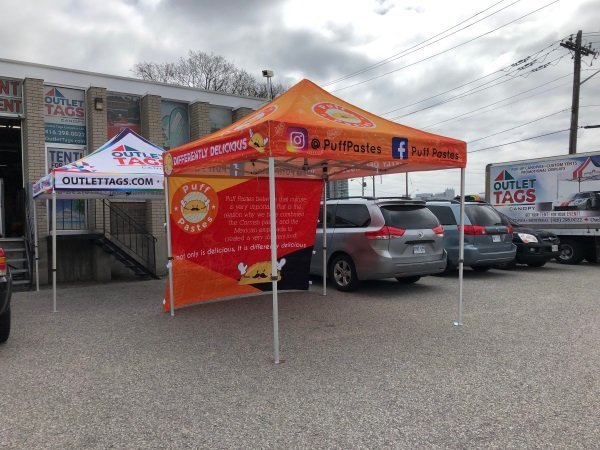 Cooling method inside.
To keep yourself comfortable and to possibly attract overly heated event patrons, employ a cooling device underneath your promotional tent. There are a few different options but if expenses are a concern, the most affordable cooling device is going to be a fan. If you have space, go with something large. It might just be blowing around the hot air but without a gust of wind to keep circulation going, a heavy heat can be a lot to handle. Every little bit helps.
Passing out sunscreen samples or water.
Another approach under the hot summer sun that could work for your brand with a event promotional tent is to pass out free cold water or small samples of sunscreen. These show attendees you care and that you're not just about selling. Also, if you get people carrying sunscreen samples or small bottles of water around, it gets others asking where they got them from. This brings more people to your logo branded canopy where you get to meet them and identify prospects who might be interested in your product or service.
Don't forget about the rain or wind.
Let's not forget that, in Ontario, weather can change awfully quick. No matter if you're using a promotional tent in Toronto, Mississauga, Hamilton, London, St. Catharines, Kingston, Oshawa, Ottawa, Barrie, Windsor, Niagara, or elsewhere, a heavy hot summer's day can turn to thundershowers at almost any moment. Just because you're coming prepared for heat, don't hesitate to pack what you need and to have a plan in place for what you need to do if the weather changes without warning.
Laminate.
If you have paper materials you're using at your table with prices or general information, there are two things likely to happen – hand sweat and heat are going to soften that paper down, and there's bound to be a water spill on it at some point in its use. Laminate any paper, cardboard, poster boards, or anything similar that you want to have on for longevity. In high humidity, these materials don't fare well.
Water bowls for pets.
Are you at a pet-friendly outdoor trade show event? If so, strategies like putting out some water bowls can draw attention from four-legged canine owners. This is another strategy to make the heat and summer sun work in your favor. This brings people to your tent which gives you the chance to pitch them on your product or service. Alternatively, look at your products, services, and brand. Is there a creative way to use what you have, purposing it in a way to attract attention? Don't let the summer heat victimize your custom made tent or your presence at an outdoor show. Take control!
These are just some of the strategies that have helped our Ontario custom trade show tent customers succeed in the face of heat, summer sun risks, and more. Outdoor festival? Arts and crafts show? Community event? Sports event? No matter where you're setting up your events canopy, by following these tips and tricks on how to handle the Ontario heat, you'll be well on your way to making an impact.