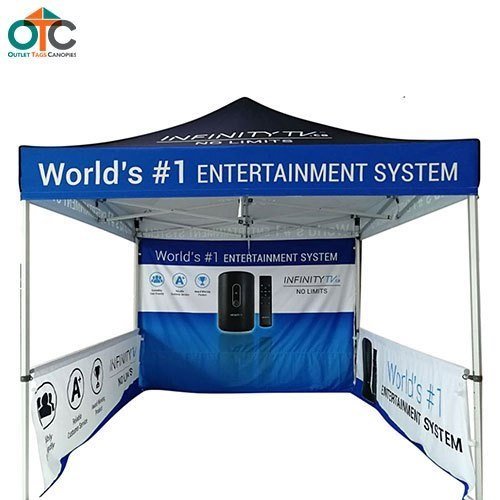 The way you visually represent your brand is the first thing a prospect sees at any trade show, outdoors event, or in a community setting. If you aren't presenting something interesting and attention-grabbing, how are you going to attract leads and covert them – you probably won't.
As somewhat experts in getting brands and their displays noticed, we are Outlet Tags. We have been operating in cities across Ontario since 2011, providing logo pop up tents, promotional canopies, and so much more.
At your next event, we want to help your brand get noticed and achieve maximum brand awareness. How we do this is by having our team collaborate with you and yours, creating and delivering customized professional displays that beg to be seen.
In almost a decade serving Ontario small businesses, corporations, charity organizations, sports clubs, and community organizations, we have assembled a team of experts in branding, event marketing, advertising, and promotional products. Any client that partners with Outlet Tags is instantly plugged into this infrastructure, with the sole objective being to give your brand a showcase.
We always prioritize our clients, offering them absolute best customer service we can while assisting them with selecting pop up tents, branded promotional trade show event shelters, accessories, and more, all appropriate to the event they're attending.
As mentioned, a large part of what we do is in the customization. Outlet Taps canopy tents are customized by our professional design team to our clients' request. If they need a promotional event tent branded specific to an event, we can get it done. If you want your logo, tag line, and brand identifiers spread strategically across your trade show canopy, we can get that done as well. However you've envisioned your promotional event tent, our team can absolutely create that for you. We guarantee it!
Chances are you've probably already seen our work
Just some of the cities where our logo tents have popped up in include Toronto, Mississauga, Oakville, Peterborough, London, Ottawa, Kingston, Hamilton, Kitchener, Niagara Falls, Oshawa, Guelph, Barrie, Markham, Waterloo, and more.
In these cities and others, our work has been featured at a long list of different events by a wide array of different businesses. Outlet Tags has supplied trade show promotional tents and accessories for realty companies, retail, community services organizations, charity organizations, car companies, performing arts events, healthcare organizations, radio and TV promotions, fast food promotions, university and post-secondary educational institutions, animal rescues and zoos, hotels and hospitality promotions, political campaigns, fitness centres, museums, banks and financial institutions, and more.
Choose only what you need to brand your custom display
We've always done our best to be our clients' one-stop shop for all things branded and promotional related to trade shows, outdoor events, festivals, and brand showcases. As an example, you can choose the tent best suited to your brand's needs simply by browsing our pop-up canopies inventory or from our specialty tents, inflatables, or custom tent packages.
Our team would also be happy to assist in selecting banners for your industry event, with an expansive collection of roll-up banners, pop up banners, pole backdrop displays, fence and wall banners, straight style, curve style, and more. Alternatively, we specialize in flags, including customized logo branded flags, bunting flags, swooper flags, national and street flags, and golf flags, car windsocks flags, and car head-rest covers. Some of our clients enjoy mixing and matching these elements to create a unique presentation that continually feeds them prospects. You can also add customized table covers, promotional table displays, and print services including business cards and flyers advertising your brand to your order.
Industry or community events can be very busy places with potentially 100s of brands vying for attention. That's why everything is customized with the highest quality design and colors, giving you a presentation no one else has – guaranteed. You would be shocked at the quality our professional team of promotional tent designers pull together on tents, banners, table covers, flags, and more. Although we have some pre-selected custom tent packages, how you choose to present your brand is entirely your decision. Our team of designers are available to make suggestions and arrange everything you need to ensure your brand's represented just the way you want – with all colors, logos, marketing materials, and equipment needed.
This is what happens when you use a logo pop up tent!
When you use a trade show canopy tent, you're getting your message out faster than ever to anyone in close vicinity. Just by taking a momentary glance your way, they're seeing your logo, your brand, your colors, and what you represent.
Just some of the brands who have seen the difference an Outlet Tags logo pop up canopy can make include The Fight Network, Chrysler, Zoomer Radio, Toronto Police 22 Division, the University of Waterloo, Starbucks, the Calgary Stampeders, St. Mary's Fire Department, Prostate Cancer Canada, Oxford County Animal Rescue, Ontario Power Generation, the Ottawa Police Association, Now Toronto, Lexus, CEGEP Heritage College, York National Realty, St. John Ambulance, Smith and White, 91.9 The Bend, and more.
With each of those brands, we helped them grow their business at trade shows, achieve brand awareness, cultivate leads, and ultimately generate interest in the marketplace. Whether it's a non-profit, a small business, or a multi-national corporation, we have had clients in virtually every category of business rely on Outlet Tags to deliver to them a striking and distinctive presentation. Just by participating, it's not enough to guarantee you can generate the amount of interest wanted. In our team, we believe we have winning strategies to impact potential customers in event environments such as those mentioned.
When you buy and use a logo pop up tent at a trade show or community event, you'll notice you receive more attention, more people coming up to you, more traffic at your booth, and more sales.
You can always count on an Outlet Tags promo canopy
All of our advertising tents, promotional canopies, and logo pop up tents are top quality. The material itself is durable and equipped to handle almost any weather. All tents are UV-resistant, fire retardant, and water resistant. Our tents are also very easy to set up and take down. It takes literally seconds!
And, if at any point, you end up having questions, need to re-order, or have concerns, knowledgeable in-house staff are ready to help and provide some guidance. Because so much of what we do is in the customization, we work hand-in-hand with our clients. We're always available to help.
We want to help you get the opportunities you deserve
Using custom pop up tents, you're going beyond the bland, all-white canopy which has little value. Collaborating with Outlet Tags on a custom trade show tent is going to give you eye-catching, customer-friendly, and lead-generating visual representation that will be tough to ignore. You can also repurpose your custom promotional tent again and again, if need be, promoting your business and brand at a variety of industry events.
We want the chance to help your brand get the opportunities it deserves. Presentation is so important. Invest your time and effort in the right place. Navigate trade shows and community events successfully with tents, banners, flags, or whatever you need visually to show off your organization. So many of our clients are seeing absolutely amazing returns on their investment already this summer. If you've never had a custom promo tent done before, know that you've never had your brand message communicated like this before. The results will speak for themselves.
Outlet Tags would love to connect with you, if you have any immediate plans to represent your brand at an upcoming trade show, community event, outdoors event, or industry gathering. Prospective customers are out there waiting to hear from brands like yours. Let's get them your messaging in the highest quality trade show tent presentation you can have.