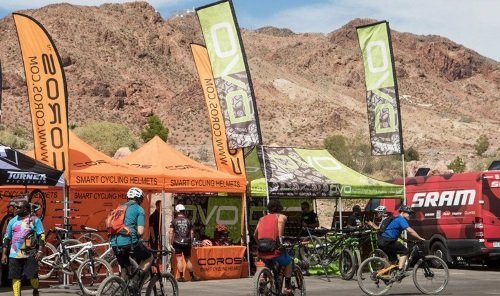 Logo pop up tent safety should be a priority for any canopy owner. Now most days, you won't have to worry about much because safety won't really be an issue. That said, being aware of possible hazards is a smart education to have.
Thankfully, for any beginner with a promotional logo tent, safety can really be narrowed down to a few fine points which we hope to explore here. Alternatively, for someone who knows business tents and canopies extremely well, it's not a negative to brush up on the basics.
Oh no, it's flying away!
The average advertising tent can weigh anywhere from 40 to 150 pounds. If improperly secured outdoors, high winds can build up underneath your promotional canopy and turn it over, even dragging it a few dozen feet easy. Considering a tent is manufactured with aluminum or steel, people and property can be seriously harmed should this happen.
Even if you don't think it's a windy day, all it takes is 24 km/hour to blow over the average collapsible canopy. Ensure your tent is tied down with stakes deep into the ground and/or with the appropriate weight as support. Not only will doing this keep your logo tent in one place but it'll prevent the property and people around you from harm and injury.
Stakes and guy lines.
When you have a logo canopy set up, its footprint will not only be what's underneath the tent. You should also be aware of where you've placed your stakes and the guy lines. The aforementioned 'guy lines' is a term used to describe the line that connects your custom made tent to the stakes.
As a lot of us know, stakes work best when there's less than six inches exposed. This ensures they are firmly dug into the ground. Unfortunately, this doesn't mean potential customers will always see them. Even with the guy lines indicating where the stakes are, not everyone is in the habit of realizing there are there's a stake coming at the end. This is evidently a tripping hazard.
The guy lines are also a hazard. Logo pop up tent eaves, or where the vertical wall transitions to the roof, is designed to be above head level. This makes it easy to pass underneath. This also creates a triangle of space between the stake and the canopy. Someone not paying attention can snag themselves on the guy line.
Ideally, you want to ensure when setting up your custom canopy tent that stakes and guy lines are as visible as possible. If there's a way to angle your promotional tent to prevent customers from having to move around the sides of it to reach another location, this is the best design you can have.
Logo pop up tent supports.
Next on the list are to be aware of the fabric walls and tent supports. As stable as a customized tent's wall may look, it's still going to move if you put enough pressure on it. Stability from a stake only goes so far. As someone in the promo pop up canopy, you want to ensure you, your employees, and any potential customers are not leaning on your rent or grabbing it.
Any pressure put on a folding canopy tent's walls will transfer directly to the tent supports. They aren't built to maintain this sort of pressure. Although most people know not to lean on a pole or fabric wall, you'd be surprised by how many first-time customers accidentally knock their promotional tent over from accidentally leaning on it or having something fall into the wall.
Fire safety.
Fire safety is an absolute safety concern. Even though our advertising pop up tents are UV resistant and fire safety certified, this does not mean they are indestructible in all cases. If a canopy is touched by a flame over a period of time, there could be a reaction. Also, some canopy tents are made from cheaper materials by other sellers. No all are fire safety certified. Those that aren't are at even more risk.
The bottom line is when it comes to fire safety, keep anything that could create a fire away from your promo tent. Any lighting system or electricity you're using in your canopy should be set up safely. If you're anywhere near to where there will be fireworks, it's recommended to keep advertising canopies away from these areas. Lastly, never have an open fire or BBQ placed under any trade show tent. This could potentially create extreme amounts of heat. Manufacturers generally recommend keeping event canopies at least 5 metres away from any open flame.
Know when to pack it in.
If you're at a trade show indoors, much of the safety hazards we've spoken about are not relevant. Outdoors is another story though. Know when to pack it in. If you see extreme, severe, and/or dangerous weather conditions, shut things down and get out of there. High winds, unmanageable weather conditions, and heavy snowfall are a safety nightmare with event logo tents. Do the safe thing. Don't risk damaging your canopy or causing injury to those around you by staying set up longer than reasonable.
Be mindful of who's using it.
The last safety recommendation we want to make is if you have a friend helping you set up or tear down, ensure they're trained on how to do it. They should be adult or under an adult's supervision if they're a minor. Although most folding canopy tents are fast and easy to install, injury's still a risk when you're working with someone who isn't experienced or knowledgeable about how to do it safely.
Buy canopy tents in Ontario from Outlet Tags!
As an Ontario logo pop up tent manufacturer and supplier, we've really seen it all when it comes to safety hazards. We hope we've helped to outline some of the ways to combat these hazards, hopefully helping you to avoid the blunders of ripped tents, broken tents, or injury. In 2019, come to Outlet Tags for your event promotional tent needs and ensure you have a safe high quality product with everything you need to install/tear-down.
Anywhere in Toronto, Ottawa, Hamilton, Kingston, Kitchener, St. Catharines, Peterborough, Oakville, Oshawa, Mississauga, Brampton, Barrie, Burlington, Markham, or elsewhere in Ontario, browse our website today or come on down to Outlet Tags!