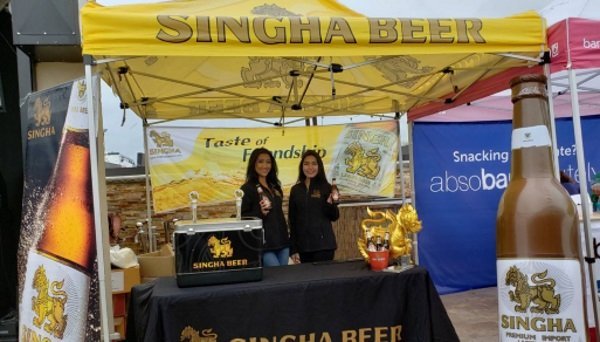 Springtime arrived a couple months ago and now, the summer weather is finally beginning to trickle in. For trade show enthusiasts, you might be getting ready to pull your custom made tent out for another season of industry events all over Ontario.
If you haven't yet, now's a great time to dust off the cobwebs and dust as you get to take stock and inventory of the condition your promotional tent is in. The last thing you want is to be pulling out your logo pop up tent in Toronto, Ottawa, or Mississauga only to find a tear or to see the appearance look unprofessional. Here are a few tips we recommend on how to check your custom made tent in Ontario and what are best practices for pre-season cleaning.
Mold and mildew on a logo pop up tent
Your promotional tent's fabrics are evidently more susceptible to damage during the time it's stored than hardware. To ensure you get the lifespan out of your custom made tent material, mildew and mold are a threat which an owner should be attentive to. Sadly, if you've found growth that has already spread to the scrim on the inside, the fabric cannot be fixed.
The best way to handle mold and mildew is through prevention, ensuring your materials has been cleaned of any contaminants and completely dried prior to storage. Ideally, you also want to follow this after every trade show. Clean and dry before packing it in. Also, if you have mold prevention treatment, the start of the season is always best to apply it.
Holes and physical damage
Holes in custom made canopy fabric are commonly from mice, poor handling, or age. You may also find clusters of insects or pests which can create holes. Logo promotional tents need to be carefully inspected to ensure there aren't any holes. At an event, any hole in your canopy will make your business look cheap. Whether you're out in spring showers or providing shade under the summer sun, that's not the message you want to communicate.
If/when you do find holes, thankfully, some are easy to fix. Holds can be mended by welding or gluing a patch to the area. Should you find this to be unsuitable to your needs, you may wish to purchase a new logo pop up tent. If you find yourself also having to deal with other issues, like hardware damage, this can be the easiest way to get yourself back on track. You may also want to clean out where you're storing your logo canopy material and/or set them up above ground so that pests are deterred from getting in.
Hardware damage
It's unfortunately common for poles, tubing, fittings, and fasteners, to be compromised in storage through either being bent and/or broken, or corrosion. The easiest to avoid are bends and breaks, which are caused by improper handling or storage as well as accidents. For this reason, any hardware should be secured before transportation or storage. Tying down pieces which can shift ensures your promotional tent remains unharmed.
Secondly, corrosion of metal is a gradual process and the less likely to occur in winter storage. Unfortunately, if you pull out your logo pop up canopy and see corrosion, it's also difficult to repair. Rust and corrosion weakens structural components. You could re-coat the pieces however replacements are generally easy to find and affordable. If you find anything heavily scratched or damaged, at the start of the season you can replace them and use protective coatings on any metals to guard against damage in the future.
Double-check your schedule
If you know you're going to be attending a certain number of events this spring-summer-fall season, you need to know your custom logo tent is going to be able to withstand the journey. If you suspect it won't, it may be time now to order a new logo pop up tent rather than having to do it in a panic halfway through the summer.
Start by confirming everything in your inventory is working and looking like it should. It's a great time to complete repairs so that you're not scrambling to get it done come event-time. And, if you suspect you need a brand new tent, the slow season – which is now – is the right time to replenish. Order what you need and you can rest easy knowing it'll arrive well before you intend to use it. Then, when you need it, it's there.
Prevention, prevention, prevention
Investing the time in prevention is worth way more than the costs of trying to manage rips, tears, fading, and damage after the fact. If you find yourself having to deal with common issues – such as mold and mildew, tearing in the fabric or bent poles – take the time to review what you're doing. Change things up to ensure it doesn't happen again.
Outlet Tags helps countless brands across Ontario, selling logo pop up tents in Toronto, Ottawa, Hamilton, London, Windsor, Kingston, Kitchener, Mississauga, Oakville, Thunder Bay, Guelph, Peterborough, Niagara Falls, Brampton, Brantford, St. Catharines, Oshawa, and Barrie. For these businesses using our promotional tents and canopies, the only way to get the lifespan they deserve is to invest the time into cleaning, drying, and maintaining their merchandise, whether it's custom table covers, event pop-up tents, branded displays, pop-up canopies, branded tents, or promotional flags.
Pre-season checks are worth it!
It can be a lot of work to do and may increase expenses temporarily but it's worth it. Should you find mold and mildew or a hole when you're installing your custom made tent, it's embarrassing and can completely mess up your plans. So take a day or two to give everything a good look, and to verify all hardware and materials are in tip top shape.
From Toronto to Montreal to Ottawa and everywhere in between, we are here to help. If you need any assistance with new products for your promotional canopy, want to replace certain hardware pieces, or would like a whole new logo pop up tent in Ontario, contact Outlet Tags.