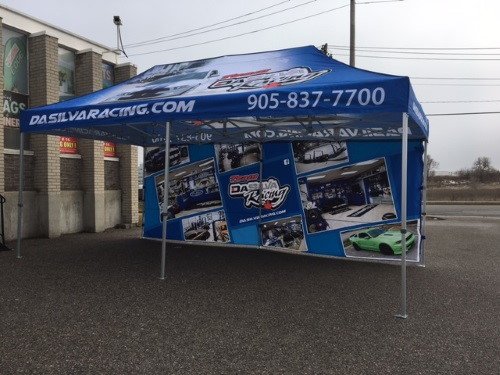 It's tough to get noticed as a brand in Ontario. All categories of business carry so much competition. It's probably one of the reasons why a lot of new small businesses tend to dry up within their first year. If you're attending industry and consumer events where it relies on brands getting noticed, a logo pop up tent or logo branded canopy is a smart investment.
Across regions like Toronto, Markham, Hamilton, London, Ottawa, St. Catharines, Mississauga, Oshawa, Barrie, Kitchener, Kingston, and all over, there are 100s of opportunities every year to give your brand's best and get noticed. No compromises. When you buy yourself a logo promotional canopy from Outlet Tags, you're setting up your brand for a home run. Here's why brands are buying.
It really does put your brand front and center
You're at an event to get noticed by qualified leads so heck, get noticed! A logo promo tent is your installation, showcasing your logo, brand imagery, colors, style, professionalism, and approach. Considering the appealing aesthetics on a tent, the focus point for your sales pitch becomes your brand. Someone walking by sees your logo, unintentionally memorizes it, and you've instantly created awareness in the minds of those in attendance.
Color attracts the eye and so does your logo
Even if your logo tent is the most basic template, if you play it right, it can still attract qualified consumers ready to do business with your brand. Let's face it – not everyone who sees your brand's going to legitimately interested in buying. This is a part of selling. You want to find the people that are interested. In a sea of vendors, you accomplish this by standing out. Color naturally attracts the eye, giving you the opportunity to make your pitch.
Customize the look!
One last note on the physical look of your events canopy is how customizable it is. Choose the shapes, colors, images, and function of your tent. If you want it to look a certain way, we're absolutely game to make it a reality. We provide high quality printing services that impart protective coatings that are scratch resistant, fade resistant, and which give you your best opportunity to continue re-using for years down the line.
Logo canopies are easy to set up and tear down
The way Outlet Tags has designed our promotional tents means they're easy to move, store, set up, and tear down. The fasteners and skeleton of your tent are also stable enough to keep placement even in windy, tough weather conditions. As long as your canopy's working as advertised and has been installed correctly, you shouldn't have any performance issues either. Come the end of the day, tearing the tent down is simple and straightforward.
Give yourself an instant advantage over the competition
Some other brands are certainly going to be bringing their own trade event canopies. Some won't. If you are one of the fortunate ones who invested in a logo pop up tent, this gives you an immediate advantage over those who don't have anything. It communicates authority, professionalism, and like you're the real deal. Even if you're a small business, with a logo tent, a brand can look just as powerful as the largest corporation with the most market share in their service category.
You're not hiding
A great way to tie in your appearance at a trade show or marketing event is to advertise beforehand on social media, email, on your website, in-store, etc. If you advertise your appearance, you may have some people showing up to meet you. With a logo canopy, you make it easy for your potential and/or existing customers to find you. You aren't tucked away in some corner, watching the tick tock of the clock. You're participating, making an effort, and making things happen. This is a great sales attitude to have.
We don't fool around on its pop up tent material
You don't want a cheap trade events tent that's going to fall apart on you or fade with the weather. When you buy your tent from Outlet Tags, what you receive is water resistant, flame retardant material that's ready to keep up rain or shine. While there is definitely some maintenance required over the years to keep it looking its best, it's high quality material that will not need replacing a few weeks from now because it got caught in a thunderstorm.
A logo promo tent is adaptable to any event
As long as nothing is printed on your canopy that links it directly to a specific event, a logo promotional canopy can get used again and again. Trade shows, markets, festivals, sporting events, fundraisers, charity runs, and so much more. It's the same basic pre-measured arrangement. This always will put you in an environment you feel used to, surrounded by the branding and look you want. Capitalize on consumer interest from anywhere!
A simple brand message you don't need to think about
If this is your very first branded canopy, remember the design you choose doesn't need to be complicated. You want to communicate a message that's clear, to the point, and direct. 'Burgers', 'paintings', 'TV & Internet deals', 'organic vegetables', and similar keywords work extremely well in environments like this. Combine that with your logo and other imagery, and nothing more is needed. Choose color, size, and keep your message loud and clear.
Your promotional canopy is protection against the elements
Having a tent, it really gives you your own space to do with what you want. It makes it clear the divide between you and the brands or stations next to you. Your canopy protects any merchandise or marketing materials underneath it from the rain. Any sales representatives underneath your logo events tent also receive protection from the sun, to keep them cool and comfortable in the summer. There's a lot of functional advantages to a logo tent that make promotional events more comfortable for you and others.
How to use a logo branded promotional canopy in Ontario starts with buying high quality materials, from a source you trust. Outlet Tags has delivered 1,000s of innovative logo pop up canopies for events all over the province from Hamilton to Toronto, from Barrie to Ottawa, and beyond. Buy your custom logo pop up tent today.