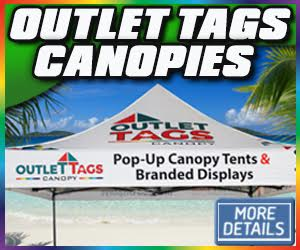 Outlet Tags Canopies has been providing pop up tents and gazebo style shelters since 2011. We are a proud Canadian-owned and operated establishment based in Toronto.
Outlet Tags Canopies offers top quality advertising tents, promotional pop up canopies, trade show displays, such as roll up banners, custom table covers, pop up displays, banners, advertising flags, business cards, flyers, custom printed door mats and much more. All our products are easy to set up and take down within a matter of seconds.
Outlet Tags Canopies can create your artwork free of charge from a simple custom banner to a full fledge booth display. We help you stand out at your conferences, promotional events, trade expos, in-store displays and MORE! Branding is what success asks for.
Outlet Tags Canopy offers thousands of stock plain folding tents, which are available in many colours, sizes and quality. Standard 10×10 Pop Up tents starting @$99.99!! to our Top Warrior tent of $4,999.00. You have a budget, well we can help you get the tent for your event within your means of spending. You may consider a fully Customized 10×10 tent starting @$499.99!! AMAZING DEALS!
Our Products include: Custom Tents, Outdoor Flags, Car Flags, Banners, Custom Printed Table Covers, Plain Table Covers, Stock Plain Pop Up Canopies including 5×5 tent, 8×8 tent, 5×10 tent, 10×10 tent, 10×15 tent, 10×20 tent, 20×20 tent, 15×15 tent, 12×12 tent, 14×14 tent, Tent accessories, Flag Hardware, Roll Up Banners, Inflatable tents, Air Dancers, swooper flags, bunting flags, national flags, street flags, branded umbrellas, custom door mats, x banner stands, tent banners, event chairs and tables, pop up displays, roll up displays, sports inflatables, and so on.
A one stop shop for your branding needs, We have a professional design team ready to create customized Trade Show Event Tents for your marketing needs. Investing in a customized branded tent, with your own message, will not only get you the attention you deserve, but increases YOUR SALES, resulting in more traffic to your booth, at any trade show event. However you envision your Trade Show Event Tent, we can create it for you, for ONLY $599.
Call us: 416.298.0022 Drop In : #16-390 Progress Ave. Scarborough, mail: Info@outlettags.com