As important as color is, a visual display needs something more. Customizing a logo pop up tent for your company gets your unique one-of-a-kind logo and branding printed on your display. Now combine this with the right mix of marketing materials at your display and you've got yourself one heck of a good chance at tapping into your targeted consumer base. Across major cities in Ontario and Quebec, thousands of customers have purchased custom logo pop-up tents, branded canopies, and more. As a small business owner and/or marketing team lead, you'll learn how to make a serious impression when you partner with Mississauga's top resource for custom pop-up tents.
Know who's going to be there
At Outlet Tags, part of the reason why our customized pop up tents are so successful at industry events is because of the effort we put into finding how to reach a customer's audience. In order for your marketing to be successful with a custom logo pop up tent, you need to know who is going to be looking for you. There may be specific colors, visuals, and/or marketing materials they expect. Surrounding your custom pop up tent with the right materials can help maximize the potential of your branding to reach the most amount of people.
Experiencing your brand in color and visual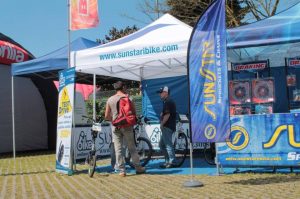 'Experiential marketing' is what these type of promotional pop up tents in Mississauga play on. This is marketing that focuses on helping consumers experience a brand. By employing big colors, logos, and visuals, that establishes a visual connection between attendees and your company. That's a big help in building awareness while subsequently causing customers to associate your brand with an emotion, activity, or memory. Sense attachment like this is important as it could mean, even if you don't close a sale on that day with every customer, some may choose to contact you later when they're reminded of the custom logo pop up tent.
Customized prints show you're successful
Customizing a logo pop up tent shows you're established, professional, and not fly by night. Ideally, you want to treat your visual display in the same way you do your marketing materials. Brand everything with logos and associated imaging relating back to your company. Compared to the displays who show up at these events with an average display that isn't customized, it'll make you stand out. Be it printed pop-up canopy tents, event flags, banners, or whatever else you may wish to combine together, it'll also show up in the background of anyone's pictures.
Combining your logo pop up tent with social media
Social media has trained consumers to recognize branding. By customizing your logo pop up tent, this also provides a direct connection to your social media marketing efforts. In the past few years, we've noticed more brands using these custom tents in Mississauga to create social media contests, hashtags, giveaways, and incentives in exchange for sharing a picture on their favourite social media account. Reaching attendees at an industry event doesn't need to end with packing in the tent. Keep it going on social media by ensuring your logo pop up tent branding matches the aesthetic being shared on sites like Facebook, Instagram, Snapchat and other platforms.
For more information on how we can get you a customized logo pop up tent for your company, contact a representative at Outlet Tags today. Serving cities like Mississauga, Toronto, Ottawa, and Montreal, we have helped hundreds of small businesses make a tremendous advertising impact with custom logo pop up tents. Get real results the next time you set up at a community event!