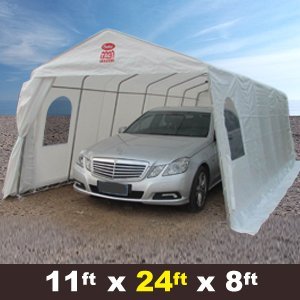 AUTO-SHELTER
There are many advantages to researching for a portable car garage shelter, otherwise known as an auto-shelter. With the wide range of selection available, it is important to know what to look for in an auto-shelter.
There's nothing more important to such a mobile apparatus than strength. The easy-slide, cross-rail system employed by the higher quality auto-shelters will allow a user to lock down and stabilize with rock steady stability. An all-steel frame also goes a long way in ensuring that strength maintains a high priority.
When looking for the best portable garage for your vehicle, reputation is an indicator of experiences that other customers have had. The Outlet Tags Auto-Shelter 24 Feet maintains high customer service ratings and an A+ mark from its users. One of North America's most popular car storage solutions, the equivalent of a garage in a box is available in its round top radius frame design – offering better handling of wind, snow, and the elements.
Considering that one's auto-shelter will be used to protect a vehicle, it is integral that the apparatus' frame is made with the highest grade steel constructed with a finish to assist in protecting against chipping, premature peeling, corrosion, and rust. The fabric that drapes itself over Outlet Tags Auto-Shelter 24 Feet is woven from a fabric that is heat-sealed and designed for maximum water resistance. All of Outlet Tags' fabrics are treated chemically inside and out which ensures that your car will be provided the ultimate in UV protection. Added fade blockers, anti-yellowing and anti-corrosion agents are added for long lasting performance and longevity.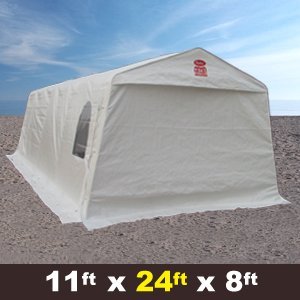 AUTO-SHELTER
In addition to these factors, no one wants to spend hours on end trying to set up an auto-shelter that may not remain safe enough for a vehicle. With the Outlet Tags Auto-Shelter 24 Feet, setup is possible in less than an hour. Sixty minutes if all it takes – often times, less. With an auto-shelter at the size of 24 feet, one gets over 200 square feet in storage space – wonderful for cars, snow sleds, motorcycles, yard gadgets, and more.
The Outlet Tags Auto-Shelter 24 Feet is 11 ft. x 24 ft. x 8 ft. of steel and material designed specifically to shelter autos, ATVs, trailers, tractors, snowmobiles, and more. Some of the high quality features of the Outlet Tags Auto-Shelter 24 feet:
A triple-layer cover that is water-resistant and kept tight to the frame with a high quality tensioning system
All-steel frame with a baked-on powder-coat surface designed for strength
Waterproof to protect against rain damage
Designed for use in summer, winter, spring, and fall
UV-treated interior and exterior to defend against unsafe sunlight that could harm your vehicle
Bolt-together hardware at every roof-joint connection for security
Easy-slide, cross-rail system to square up and lock down frame for stability
Ratchet-tight tensioning system to keep the cover tight to frame during setup
Stabilizers designed to keep the frame stable