The Outlet Tags Auto-Shelter 20 Feet is a unique product and one of Outlet Tags' most popular car storage solutions. Its' sleek round design utilizing high grade steel with a high quality finish prevents damage and works wonder to keep your car protected.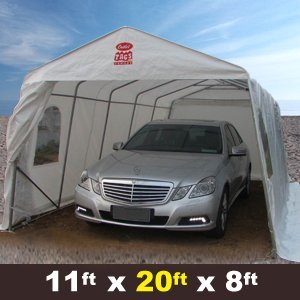 AUTO-SHELTER
This portable car garage offers the best in-class features designed to keep the cover tight and the frame secure. Its drum tight cover appearance has come to define the Auto-Shelter 20 Feet portable garage. One can securely anchor their portable car shelter to grass or unpacked oil with ease, and have it set up with a manner of minutes. It takes no longer than an hour for full setup. The straightforward design digs fast and holds firmly thereby providing every customer with a strong and sturdy garage.
Its use is extremely flexible in being able to accommodate full size cars, medium duty trucks, motorcycles, ATVs, small boats, and trailers. The auto-shelter works hard to protect the assets left inside.
Store your vehicle in the Auto-Shelter 20 Feet and witness the protection it gives. You won't see rain penetrate it and you won't see any gust of wind be able to damage it. The recipient of an A+ customer service rating, the portable garage shelter is a high quality product designed for those that are serious about protecting their vehicle.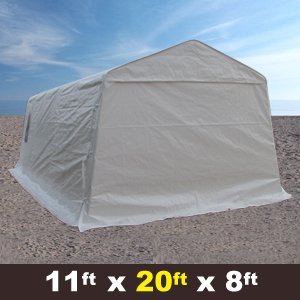 AUTO-SHELTER
When you receive your portable garage shelter, begin its quick setup with our easy-to-use written instructions complete with diagram guidance to ensure that it takes no longer than sixty minutes to get done. Outlet Tags has customers who have had these auto-shelters for over two years and with no complaints nor damage done.
Shelter your vehicle under one of the strong, tight structures that Outlet Tags has become known for. Easy to assemble, durable, functional, and well made from only the highest quality materials – the option of a portage garage is one that fits any need. Don't waste time in making the decision. Outlet Tags maintains a commitment to ensuring that all of our customers are satisfied and there's no better purchase in the market than the Auto-Shelter 20 Feet.
The Outlet Tags Auto-Shelter 20 Feet is 11 ft. x 20 ft. x 8 ft. of steel and material designed specifically to shelter autos, ATVs, trailers, tractors, snowmobiles, and more. Some of the high quality features of the Outlet Tags Auto-Shelter 20 feet:
A triple-layer cover that is water-resistant and kept tight to the frame with a high quality tensioning system
All-steel frame with a baked-on powder-coat surface designed for strength
Waterproof to protect against rain damage
Designed for use in summer, winter, spring, and fall
UV-treated interior and exterior to defend against unsafe sunlight that could harm your vehicle
Bolt-together hardware at every roof-joint connection for security
Easy-slide, cross-rail system to square up and lock down frame for stability
Ratchet-tight tensioning system to keep the cover tight to frame during setup
Stabilizers designed to keep the frame stable