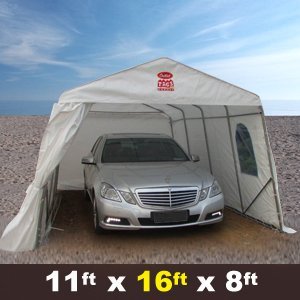 AUTO-SHELTERS
Everything from a car to unused furnishings, garden equipment, family values, and other items can be stored in the auto-shelters via Outlet Tags. Many customers choose to use these types of auto-shelters for other purposes beyond storage for an automobile – some people use it simply for a little bit of shelter under the hot sun. Cost-efficient, the materials used to design the auto-shelter are UV-treated and ready to do battle with any weather – even the most extreme of conditions.
In order to ensure that your shelter is able to last for many years, one must take care of it by keeping it clean and dry regularly. A durable fabric such as the one used by Outlet Tags is simpler to maintain and keep clean than a lower quality one, which has a tendency to damage easily.
The frequency of setup and teardown is also a major determinant to how long such a portable shelter such as this can last. Always ensure that the shelter is tightly sealed and that no rainwater can enter. It is of utmost importance to inspect your auto-shelter on a routine basis to ensure that if there are any issues that they are addressed in a timely fashion.
If/when one notices damage in the fabric, it is important to repair it as soon as possible. This ensures that a small tear doesn't become a larger one.
Make certain that the frame is properly installed and be careful not to hang heavy equipment or other things from the framework of the building.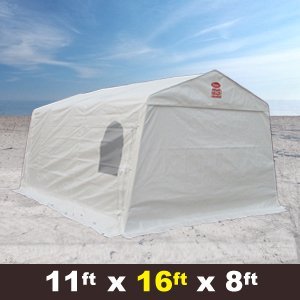 AUTO-SHELTERS
The Outlet Tags Auto-Shelter 16 Feet is among the very best in portable garages and shelters online. Maintenance is the only method to ensure that your auto-shelter remains looking terrific in the years to come. Utilizing the latest in technology, Outlet Tags has fashioned some of the strongest, long-lasting and affordable frames and sheets to ensure that our customers are given the absolute best in quality.
If one is careful with their auto-shelter and keeps maintenance in mind when using their auto-shelter, you're bound to have a long lasting product on your hands. It's important to remember to prevent as much moisture in order to avoid issues of mold, keep it dry and clean, and ensure that you purchase a high quality product such as Outlet Tags Auto-Shelter 16 Feet.
The Outlet Tags Auto-Shelter 16 Feet is 11 ft. x 16 ft. x 8 ft. of steel and material designed specifically to shelter autos, ATVs, trailers, tractors, snowmobiles, and more. Some of the high quality features of the Outlet Tags Auto-Shelter 16 Feet:
A triple-layer cover that is water-resistant and kept tight to the frame with a high quality tensioning system
All-steel frame with a baked-on powder-coat surface designed for strength
Waterproof to protect against rain damage
Designed for use in summer, winter, spring, and fall
UV-treated interior and exterior to defend against unsafe sunlight that could harm your vehicle
Bolt-together hardware at every roof-joint connection for security
Easy-slide, cross-rail system to square up and lock down frame for Ratchet-tight tensioning system to keep the cover tight to frame during setup
Stabilizers designed to keep the frame stable