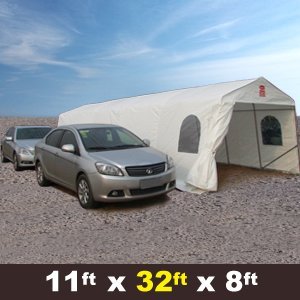 AUTO-SHELTER
Tailor made to fit any need, the Outlet Tags Auto-Shelter 32 Feet is a portable garage that can be erected rapidly and/or taken down with little time wasted. Offering clear benefits when compared to alternative structures, the garage-in-a-box offers mobility while being engineered to fulfill all requirements you need it to.
Among its various applications is to protect a car or vehicle. Manufactured by Outlet Tags, the company maintains a reputation one of North America's largest and most trusted portable shelter makers.
Those that are unfamiliar with portable garages, these are commonly used as an alternative to the traditional brick-and-mortar setup. Movable and frequently used for temporary shelter for vehicles and/or other important investments, an effective auto-shelter will be able to protect the assets contained inside from anything the weather can throw at you.
Portable garages are commonly purchased by those that need extra storage space at their residence but who don't want to invest in an expensive, permanent structure.
The Outlet Tags Auto-Shelter 32 Feet maintains popularity due not only to its large size but also because of their mobility. Its easy setup means that such a structure can be easily dismantled and assembled at your will in different location should you ever need it be.
Outlet Tags understands that the weather security of a car or truck is at the top of a purchaser's concerns. Auto-shelters would not be able to maintain their popularity if they did not function efficiently in this regard and one can ensure that a purchase with Outlet Tags is going to keep what's underneath the auto-shelter safe and secure. It doesn't matter if it's an automobile, a yard tractor, a trailer, watercraft, motorcycle, camper, boats, or what!
Portable garage shelters offer nearly any type of vehicle adequate cover from inclement weather conditions, vandalism, and pilfering as long as the vehicle can fit fully inside the shelter. Depending on one's intended use, portable garages can be customized to specified requirements. The Outlet Tags Auto-Shelter 32 Feet utilizes only the highest quality materials to increase the toughness of the powder-coated finish and the security of the galvanized steel frames.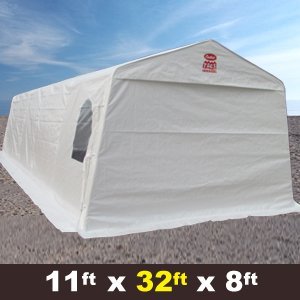 AUTO-SHELTER
The Outlet Tags Auto-Shelter 32 Feet is 11 ft. x 32 ft. x 8 ft. of steel and material designed specifically to shelter autos, ATVs, trailers, tractors, snowmobiles, and more. Some of the high quality features of the Outlet Tags Auto-Shelter 32 feet:
A triple-layer cover that is water-resistant and kept tight to the frame with a high quality tensioning system
All-steel frame with a baked-on powder-coat surface designed for strength
Waterproof to protect against rain damage
Designed for use in summer, winter, spring, and fall
UV-treated interior and exterior to defend against unsafe sunlight that could harm your vehicle
Bolt-together hardware at every roof-joint connection for security
Easy-slide, cross-rail system to square up and lock down frame for stability
Ratchet-tight tensioning system to keep the cover tight to frame during setup
Stabilizers designed to keep the frame stable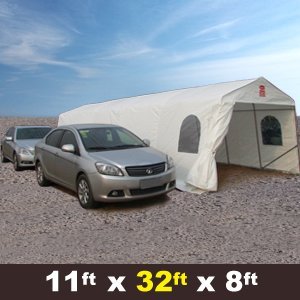 AUTO-SHELTER