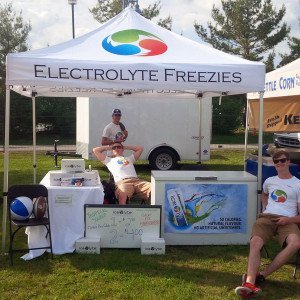 When you're out there promoting your business at a trade show or when staging your own promotional event, a branded canopy works wonders. A branded canopy allows you to customize precisely what it is you want to promote – include your brand name, logo, and colour scheme of your choice to communicate to prospective customers exactly what your business is about. These tent-like structures are eye-catching and offer a high conversation rate for users of them.
The next time your Canadian business is in the marketplace for a branded canopy, promotional tent, or event marketing tent, consider Outlet Tags Canopy. We offer high quality customizable designs that are placed on materials designed for UV protection, fire retardant, and water resistant to equip you no matter the weather conditions outside.
When choosing the branded canopy for you, there are a vast array of customizable options including in size, printing, graphic, and colour. Each branded canopy comes with its own aluminum frame with a pull pin locking system that allows for quick setup and tear-down no matter where you're setting up. In addition, your branded canopy will come with its own carrying case with wheels. Depending on the tent package a customer selects, there are a myriad of options available – all this and more with Outlet Tags Canopy.
These branded canopies are common sights at trade shows, outdoor corporate functions, at event associations, parks and recreation activities, non-profit organization representations, and fundraising events. They are commonly used for a variety of reasons – not only are they easily seen and instantly memorable but they naturally attract attendees who wish to gather somewhere under shade. With a colourful design highlighting your logo and brand name, no attendee will walk away not knowing who you are.
In addition to corporate use, many everyday Canadians have chosen all-purpose canopies for their own personal use – whether it's to shade their patio, a car, or a deck, 10 x 10 tents are available across multiple solid colours. Pull it out at any time for easy setup and use it for a picnic, barbecue, sporting event, camping trip, or just for when you need a little hideaway from the sun at the beach. Lightweight, rust-free, waterproof, and UV resistant, these tents are ideal for those looking at an affordable option to give them a different look on their property.
Outlet Tags Canopy offers high quality designs across a variety of purposes and provides the utmost value at an affordable cost. With locations in the City of Toronto and Ottawa, we service the southern parts of Ontario. Our canopies are seen across the province and are used by corporate and small business vendors to keep their products, promotional materials, and food in a safe and secure shelter. Keep staff protected from the blazing sun or unexpected rain, and secure your marketing materials in an outdoor setting. With unlimited styles in lettering, colours, logos, and images of your choice, nowhere else will you find greater options for your tent than with Outlet Tags Canopy.