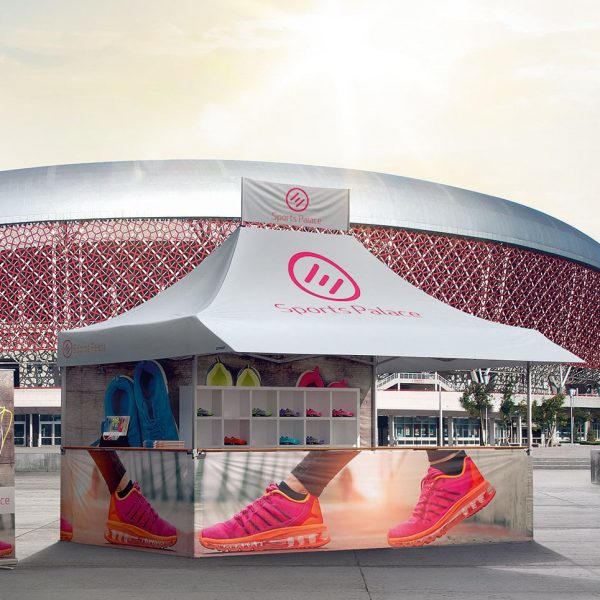 Selling your brand at trade shows, farmer's markets, and community events with a logo pop up tent is an art every entrepreneur needs to learn. Though trade shows in Mississauga, farmer's markets in Toronto, and community events across Ontario are always fun and exciting, they can also be very competitive for vendors. Buying a custom made tent is a great start but it still might not be enough to maximize the opportunities a brand has in some of these settings.
For a lot of small businesses and entrepreneurs, the first step to selling their products, services, or brand is to sign up new customers at these type of shows. Learning how to sell at trade shows, farmer's markets, and seasonal events becomes a part of the job. To ensure your business has the best possible chance at succeeding in these settings, these are some of the things you'll want to remember. Customization is a huge part of succeeding in these environments. Be it in Toronto, Oshawa, Oakville, Burlington, Hamilton, or beyond, time and time again, these tips are true.
Stand out amongst the crowd
Trade shows in Toronto can have consumers, retail outlets, and buyers from all backgrounds looking for new products and ideas. Needless to say, you'll never be sure who you might bump into and so it's integral to know that you're trying to impress everyone in the room. Customizing canopy tents or promotional tents are a great way to stand out in a crowd of many. Taking a look around these type of events, you may see some customized advertising pop up tents though most businesses may come only with a general white canopy sans branding. Custom prints and design immediately gives your brand an identity. Do not go into these types of settings with a white canopy tent with no discernible branding to it. Be different!
Using keywords as a selling point
Keywords, though sometimes generic, are key to attracting customers to a location. Browsing the busiest streets of your city, you will notice keywords posted everywhere on the front of small business windows. These keywords are important because it lets customers know what they can find when they walk through your doors. Customized promotional tents are well and good but customizing with logos, graphics, and colors don't always communicate as clearly as we think they may. Therefore, what's recommended in a farmer's market or Mississauga trade show situation is to utilize keywords like "Fresh Vegetables", "Beer and Wine", "Lawyer Services", "Massage", "Pet Adoption" or something similar. These are general words in large writing that describe your business. Let people know what you're selling!
Displaying merchandise
Underneath your advertising tent, give consumers the chance to see physically what you're selling. When you're in a place with big crowds, a customer may only be exposed to your brand for a minute or less as they walk by. A logo tent is ideal and matching it with merchandising appropriately presented is even better. Vendors need to use the space they're given! Some use grids, racks, or alternative merchandise displays. The most attractive items you have should be placed at the front. Do your best to use tables at an elevated level so that customers don't have to look down to see product. As they walk by, they'll have an easier time seeing merchandise at eye-level.
Maximizing product selection
Using a promotional pop up tent in Hamilton or elsewhere in the province is a great way to showcase your best bargains, your most unique products, and the best gifts. For this reason, keep in mind these three kinds of products – inexpensive, unique and fun, and ideal for gifts. The more diversity you have in the products or services you're showing, the more likely you're grab a percentage of those walking by. Also, for businesses whose items are manufactured at higher price points, that's ok too. All in all, logo pop up tents create amazing spaces in which so many things can be done.
Social media blending
All customizations on your tent – logo, graphics, color, and everything – should blend seamlessly into your social media accounts. When building a custom tent for a trade show or farmer's market, you may already have a logo and graphic designed for it. If these graphics are already in use on social media, you're good to go. There's not much more than that that you need. If there are differences between what customers view about your brand online compared to what they see in person, they may be less likely to approach or follow-up. Consider sharing your social media links somewhere around your trade show display. Among some brands, they find this approach to be better than promoting a website or phone number. Being able to connect with prospective clients on social media is a tremendously effective way to generate ongoing business.
As a budding brand that needs to get its face in front of people, trade shows, farmer's markets, and community events are opportunities that should be maximized. Thankfully, Toronto, North York, Oshawa, Etobicoke, Mississauga, Oakville, Burlington, and Hamilton have hundreds of industry events every year across numerous categories of business. For new brands, there's no shortage of possibilities in getting the word out. Going into these events, make the most of it by equipping yourself with a custom advertising pop up tent, complete with appropriate merchandising, keyword usage, and social media references.
If you're looking for custom made tents, logo pop ups, and more, visit Outlet Tags today. A representative would love to speak with you and recommend the most appropriate, cost-effective option for your next event. Specializing in all sizes and makes of advertising tents, we would love to show why so many customers across Ontario continue to use us as their go-to, ramping up to trade shows, industry events, community celebrations, and more. Browse through Outlet Tags' catalogue today to see some of the custom pop up tent options available.