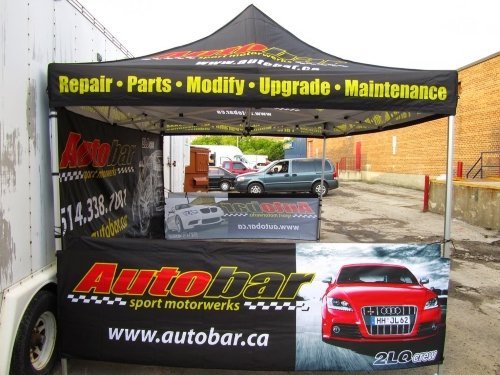 Custom made tents for trade shows, community events, and general advertising comes with the ultimate objective of growth. There's almost no disputing every entrepreneur, small business owner, or corporate head wants to see their business grow.
For small businesses in spaces dominated by major corporate players, it can be intimidating purchasing a logo pop up tent and setting up shop immediately beside. Throughout the years, we've worked with hundreds of small business owners giving them what they need to compete. Be it a custom made tent in Toronto, a custom canopy tent in Mississauga, or a promo pop up canopy in Ottawa, we can help. The right customizations on a branded pop up tent can work wonders at reaching a new customer base and increasing profits. Though it's unfortunate to say, if a business advertises the wrong way, it can also cost them the opportunity to grow. That's not the kind of thing we want to see. That's why we've put together this list of 4 mistakes some small businesses make when branding a custom canopy pop-up tent.
Mistake #1 – Too many Logos, too many customizations
You don't want a target audience member's reaction to your promotional tent to be, "wow, that's a really busy look." For inexperienced small business marketers, it's not uncommon to believe they need to cram together all their logos, graphics, and copy. Don't do this. An advertising tent that is too busy is going to say so much that nothing will register with your target audience. It'll come across as too much. Instead of having one or two messages to interpret, having five, six, or seven doesn't give someone enough time to really read a canopy. All in all, a logo tent is a small area. It shouldn't be confusing to anyone walking by. Any custom print needs to be delivered keeping in mind that 'less is more'. Focus on a single product or service your business provides and give them something simple to interpret – whether that's a logo, a social media link, or something else.
For all inflatables, flags, or tents, include your logo and the message. Keep it clear and easy to understand. If someone passing by your pop up tent can't figure out the vibe you're going for in a few seconds or less, they're going to continue walking. For this reason, don't input too many logos or too many customizations. The less elements in play, the more strategic the presentation.
Mistake #2 – Being too Afraid to make your available space count
In the same way that customizing too much available space is a mistake, not using enough is a similar missed opportunity. Advertising tents provides a few different customization options. Be sure to use enough of these to ensure when someone walks into the room, they don't just see blank color. Take advantage of the opportunity and lay out your logo, first of all, for everyone to see. Then, be sure to think about including potentially an image, a social media account, a tag line, or something similar to establish what it is you're representing. A small business owner is paying for the entire logo tent so be sure to use it. Branding should be clear from every angle, no matter where one's standing in the immediate perimeter. Don't go overboard with having it buy but be sure to not leave it too empty. Include integral information to your brand and ensure that, from every angle, there's something to be seen that acts as a direct brand representation.
Mistake #3 – Lacking Clarity in what message you are sending out
Even without advertising pop up tents to contend with, brand communications and brand marketing is tricky. Even though the messaging may appear crystal clear to you, it might not be the same for others. For example, not everyone associates a color with a specific industry nor will they associate a graphic to specific products or services you may be selling. What's easily one of the biggest mistakes companies make when customizing tents for trade shows is that they don't present a clear message. Unless your company has a multi-decade history behind it and is well-known by the entire city, no one is going to see your logo and immediately know what products or services you represent.
The only way to solve this problem is to be very literal on your canopy. Let's say, for example, you're a cable TV and internet company. The side of your event canopy tent should read in big, bold letters "Cable TV and Internet". Be very literal in what it is that you do so that anyone driving by or walking by can see your canopy and instantly know whether they're interested in talking to you. Though this is not as unique or interesting as a logo or graphic, it's imperative that a clear message is sent out to everyone in the vicinity. That way, if they're in the market for a product or service you provide, you won't have to worry about them walking by not knowing they can find it with you.
Mistake #4 – Not creating a big enough presentation
In the early days of attending trade shows and industry events, you may wish to cut corners on a budget and go with the bare minimum. The more experienced vendors that attend these events know that, if you're going to do it, you have to do it right. There's no going in halfway. If you want to be successful at an industry trade event, you really need to jump into it. Customizing a logo pop up tent might just be the start. You may also want to look at branded table covers, branded flags, banners, or inflatables. It's all about creative a big presence to get eyes on you. It does take a good amount of financial investment however those that have gone along with it are generally surprised by the return on it. Give some thought onto how to elevate your brand at these type of industry events, trade shows, and similar environments where presentations are a necessity.
If you're looking to do branding right on custom made tents, custom canopy tents, and custom promo pop up canopies, shop with Outlet Tags. A representative would be more than happy to get you set up with the right advertising tent for your next trade show.