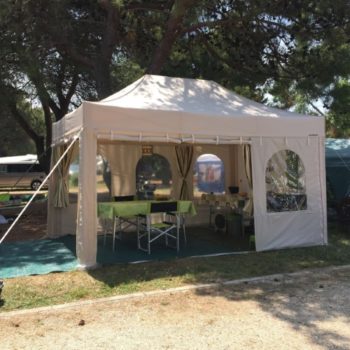 Custom made tents are an amazing tool to catch the attention of potential customers at trade shows, industry events, and more. Needless to say, it's easy to get so excited about the unique designs of one's promotional tent that one forgets about planning the logistics of setting it up. If your custom canopy tent needs to be set up outside, the challenge can be significant. To provide some guidance to first-time buyers and those who have run into issues in the past, this is how we recommend going about weighing down and securing a pop up tent.
There are two main ways to get a promotional tent secured down. There's ground stakes which hook into the ground and provide real solid anchor even in the face of strong windows. Though many consumers rely on ground stakes, if you're setting up on pavement, they have no value. Therefore, many prefer the second way to stabilize a promo pop up tent which is by using canopy weights. These can be moved anywhere freely which makes them ideal for use on both ground and pavement. Prior to deciding on preference, be sure to consider where you're setting up. Depending on where and what time of year it is, you may already have your answer.
To this point, plan according to location and exposure. For example, you may be walking into a situation where the ground conditions are not what you thought they were going to be. During colder times, it's possible for ground to freeze. Subsequently, you may not have permission to dig into the ground at a promotional event. If pegs are good to cut it with your expo canopy tent, remember to ensure the entire kit is secure in place, the stakes won't accidentally leave the ground, and that the system is able to handle its load. If you do intend to go with weights, we recommend going with fifty pounds per leg minimum. A weight should be placed on each leg, ensuring there's no risk of the promotional pop up tent lifting off the ground.
Every advertising tent in Toronto and Mississauga comes with a wind rating. This wind rating indicates what a folding canopy tent frame can handle. For this wind rating to apply though, a tent needs to be anchored down appropriately. As long as everything's in place with your pegs or canopy weights and the wind speeds don't exceed the rating of your tent, you'll be good to go. The biggest mistake we see consumers make with their pop up tents is an underestimating what can happen to the weather. At a moment's notice, weather can change. If the wind gets bad enough, there needs to be a plan in place to ensure the tent doesn't turn into a projectile.
It's also a solid recommendation to begin setting up your trade show tent anchored on the windward side. If the advertising pop up tent has specific anchoring points, one can follow through with those knowing that everything is anchored appropriately. For times when stakes are in play, they should always be inserted at an angle. Doing this helps them dig in a bit more and prevents them from being pulled straight out. Remember, a big gust of wind can easily lift up a tent and send it flying. Double-check every stake to ensure it's doing what it should.
Regarding weights, some may still like to use rope through the indicated anchoring points. This is because sitting weights on top of a leg is rarely enough to prevent a logo pop up tent from shifting freely in the wind. Though they may keep it secure to the ground, wind can still blow it around a little more than preferable. Always use the ropes, if/when possible. They can also help if an advertising tent is to remain over the course of multiple days. As it's left overnight and unattended, ropes can provide confirmation that your tent's going nowhere – even in the strongest winds.
Now, when the weather takes a turn for the worse, a custom made tent owner needs to know what to do to keep themselves and those around them protected. The best place to start is to keep the tent open or to remove the walls that may be on the canopy. Take the time to lower the custom canopy tent as close to the ground as possible. If the anchor ropes are tightened, that's also important. At any point during an event, if you're unsure about how secure your tent is, there's nothing wrong with adding more weight or stakes. 'Being too safe' is not something you need to worry about. Creating a safe space for you, your staff, and event attendees is priority.
Lastly, you may occasionally find yourself with a promotional tent out in winter weather or with snow on the ground. If you are using a pop-up tent in Ontario winter, the best way to secure it is usually with what are called 'snow cookies'. A combination of plywood and rope, they can be packed down or iced into the ground.
When 'snow cookies' are used properly, they provide hundreds of pounds of support that's sure to keep your advertising tent adequately secured. Ski resorts, in particular, use snow cookies regularly to secure tents for wintertime events. That said, weight bags still work in winter. If you have some old weight plates, these are good as well. Always be attentive to winter wind conditions, the possibility of a heavy snowfall or freezing rain, and keep in mind that safety is as much a priority as anything else when attending these events. In any weather, if you're leaving it overnight, ensure your expo canopy tent is open or folded down.
As sellers of custom made tents across Ontario cities like Mississauga, Ottawa, Barrie, Toronto, Hamilton, and others, we would be happy to help in answering any further questions you might have about the safest way to set up. Providing custom pop up tents for hundreds of companies across the province, the ultimate custom logo pop up tent is just a click away. Contact a representative at Outlet Tags today for more information!