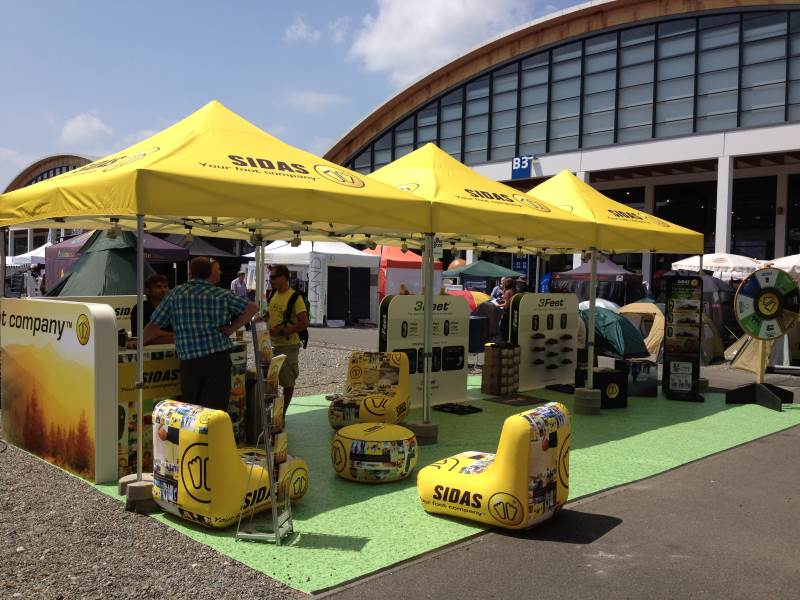 At Outlet Tags, we know what you think about trade shows. You don't need your attention to be on anything but putting your best foot forward. You need to increase your branding, and you need it to come up looking good and professional. So when it comes to trade shows in Canada, we're going to focus on the thinking for you. We have the supplies that will give you the best exposure possible for your company; trade show displays that will supercharge your branding, trade show booths and pop-up booths to highlight your products, and eye-catching banner stands to draw in customers and help you stand out in the crowd. Trade Show Booths, Banner Stands & Table Covers For Your Full Display Needs
Perfect size for any trade show: Table Top Booths
Your standard table top booth keeps things looking professional, while remaining economical with your limited presentation space. Choose the 6 or 8 foot display to attract consumers to your site, and to transform a good trade show booth to a great one. Here is what the table top booth can do.
• Will fit your standard table top for display purposes
• Choose your design to be dye-sublimated on the fabric screen or printed/laminated on high performance Styrene
• Fabric is stretched on a collapsible aluminum frame for easy assembly and disassembly
• End caps for a professional finished look
• Choose between curved or straight design options
Complete your look with Table Throws
Go from "high school science fair" to modern and sleek with our range of table throws. A simple accessory, these can be used to great effect. We offer throws that are:
• High quality fabric for a smooth and elegant style
• Fit a standard 6' or 8' foot display table. Custom size options are also available
• Choose the 3 or 4 sided color throw. Blank or full color display options are available. Have your design dye-sublimated on the throw of your choice.
• Stretched table throw is made from an easily washed polyester fabric suited to 6' or 8' tables
Attract People with Roll up Banner Signs
To get eyes on your booth you need an attractive look that brings the clients in. For portable trade show displays, this is an absolute must. Banner signs come in a wide range of options and sizes, many with banner stands for a free-standing alternative to table banners, so choose something that suits your company's theme and trade show size.
The Backdrop for your presentation: Pop-up Booths
Your trade show display should look amazing, and make you and your business look amazing in turn. This is the cornerstone of your trade show booth, and we can make it look great. Choose your style with the complete confidence that each option has a range of features that are designed to make you look professional and elegantly styled. Here's what our booths can offer you today.
Your pop-up booths can also come with matching podium for a cohesive and consistent look throughout the entire booth.
Alternate your Images with Tension Fabric Displays
For the ultimate in ease of use, the tension fabric display gives you complete control of your time and your image. Get this stunning addition to complete your trade show look.
Full Sized Tent Canopy for indoor and outdoor usage.
Include this trade show supply in your arsenal, whether for outdoor or indoor use. The tent canopy advertises your company in a bright, cheery display while also creating an intimate atmosphere for conversations and marketing promotions right in the booth.
• Ready to use and assemble, straight out of the box
• Your logo or masthead printed on the canopy for easy brand recognition
• Comes in 10'x10' or 10'x15' and 10' x 20' sizes
• Completely customizable with options for back walls, full or half-sized side walls to allow for only one entry into the canopy