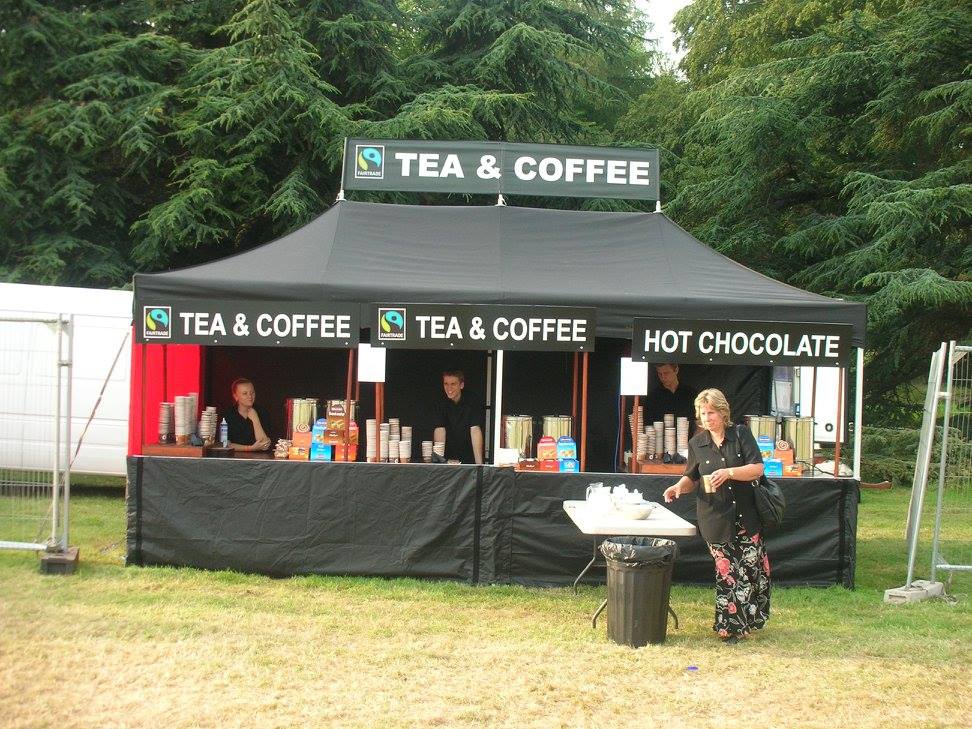 If you've recently bought your first logo pop-up tent in Toronto, you may wondering how to properly store and maintain it. That's a fair question that we hear from many of our customers.
After all, the way a custom made tent in the GTA is stored and maintained has influence on its long-term lifespan. If you want it to last long, you've got to put in the work to take care of your promotional tent.
There's several rules which, when followed, will keep your custom canopy tent looking as good as new. Here's a quick rundown of the recommendations we provide to any customer seeking storage and maintenance advice.
Logo Pop Up Tent Storage
Let's start with how to properly store your folding canopy tent in Burlington. To start, ensure that your tent is completely dry and that there is no moisture on it when packing it up for storage. If you're coming from an event where it got soaked by rain or was left wet in some way, no need to worry. Pack it in wet at the event and then, hang it out to dry when you get home.
If you pack it away for longer than a few hours wet, you're going to run the risk of it degrading and beginning to smell. It seems simple but believe us when we say, it can be really tempting to be lazy and put it away with a little moisture. Always check. It could save you hundreds of dollars in having to replace it or the time and effort it'll take trying to clean it.
Next, if you have a PVC carrying bag, always put it on your canopy for storage. Carrying bags are not just for transportation. They're great for protecting an expo canopy tent in Oakville from any rips, tears, or stains that can sometimes occur in storage. We've had customers before put away their logo pop up tent into storage only to pull it out the next season to find a permanent stain or tear. If you don't have a PVC carrying bag, considering getting some version of it to keep your tent protected at all times.
Lastly, as it pertains to Oshawa logo pop up tent storage, if you're using it regularly, always fold it with the top attached for ease of use. If it's going into storage for a longer period of time, remove the top, fold it nicely, and store it separate from the frame. Be sure where you're storing it is going to have a safe temperature and where it can easily retrieved without having the tent be snagged on anything. If you keep all this in mind when storing your advertising pop up tent, you shouldn't have any trouble keeping it in tip top shape for the next time you need to pull it out.
How to Clean your Logo Pop Up Tent
Alongside getting to know the rules of proper trade show tent storage, ensuring it's properly cleaned is going to be another major component of keeping it in excellent condition. In the vast majority of cases, using a mild soap or detergent is great to use alongside a scrub brush and some water. It doesn't take much effort to physically clean a logo pop up tent in Mississauga so keep that in mind with how much you push down.
Now, if there are areas with customized print on your logo pop up tent, avoid scrubbing these areas. You don't want to damage the print or dye sublimation. Though it doesn't happen often, it can happen. To this point, we also don't recommend using industrial washers, power washers, or any form of abrasive cleaning. There's a good chance doing so will damage your print or any protective coating on the canvas. Always be sure to use mild detergent or soap. You won't need much more than that.
The last point we want to make on cleaning your logo pop up tent in Hamilton is to check the frame every season. Identify any loose bolts that need tightening or bent scissors that are in need of replacement.
Every Logo Pop Up Tent is Different
Every logo pop up tent is customized according to the customer's need. There may be special considerations that need to be made regarding storage and maintenance. If you have any questions, we would be happy to answer them. That said, the Ottawa custom made tent list of storage and maintenance rules found here are likely all you'll need to ensure your product's life span is maximized. At Outlet Tags, it's our highest priority to ensure you're getting everything you want from your promotional tent purchase. We work diligently with each of our customers to ensure they are given everything they need to succeed at their next trade show. Customized pop up tents are a great opportunity to present your brand. Be sure to store them appropriately and ensure they are properly maintained.
Across Ontario, we serve regions all over the province including Toronto, Ottawa, Mississauga, Brampton, Hamilton, London, Markham, Vaughan, Kitchener, Burlington, Oshawa, Barrie, St. Catharines, Guelph, Kingston, and more. If you're seeking a high quality logo pop up tent for your next trade show, don't hesitate to give us a call. We provide amazing high quality prints to accurately represent your brand. You can make a big first impression on attendees of your next big trade show with the right canopy tent to back up your marketing and salespeople. We hope these storage and maintenance tips for advertising tents help keep yours feeling like new!
For more information on promo pop up canopy tent care and maintenance, contact a representative at Outlet Tags. We would be happy to assist in answering any questions and ensuring your promotional tent is properly cared for. Following the steps and cues mentioned in this article, you shouldn't have any trouble keeping things looking great year after year, trade show after trade show. Please feel encouraged to get in touch any time to find out more about the storage and maintenance of your logo pop up tent in Ontario, Canada.